VERTICAL PEELER TOP DISCHARGED CENTRIFUGE for PHARMA – SCVT


SCVT – SULTRADE CENTRIFUGE VERTICAL TOP
Centrifuges types SCVT  (top discharged peeler centrifuges) are made according to GMP conditions and with very variable design of centrifuge and its accessories. Centrifuges are gas tight with possibilty of ATEX (for example Ex II 2G IIC T4) with inertization.
Material of centrifuges:
stainless steel 1.4404 (1.4435) / 1.4571
special alloy 2.4602 (Hastelloy C-22)
hallar coating (E-CTFE)
Surface quality can be:
grinded Ra <0,8 μm
polished Ra <0,2 μm
Top discharged centrifuges can be in design with:
manual dicharging
removable basket with sack
pneumaticaly operated discharger with pneumatic transport of product to VPT
Cleaning of centrifuge can be as:
CIP cascade celaning
flooding of centrifuge
Variable design of centrifuge and its accessories can be:
main electric motor up or down position
cover for external ventilation for clean room
completely or partly openable lid
equipment for nitrogen blowing
RHR – residual heel removal system
equipment for liquid (sifon, hydrocyclon, pumps, flowmeters, armatures, hoses, compensatores…)
equipment for product (pneumatic transport, barrels, armatures)
stand for centrifuge with dumpers
Vaccum product tanks VPT are supplied togoether with SCVT centrifuges as an add-on for collecting of tansported products (discharging via pneumatic transport)
VPT Vacuum Product Tanks are available in various sizes and materials, either in a mobile or stable design. The product is emptied from the VPT into the container without contact with the environment.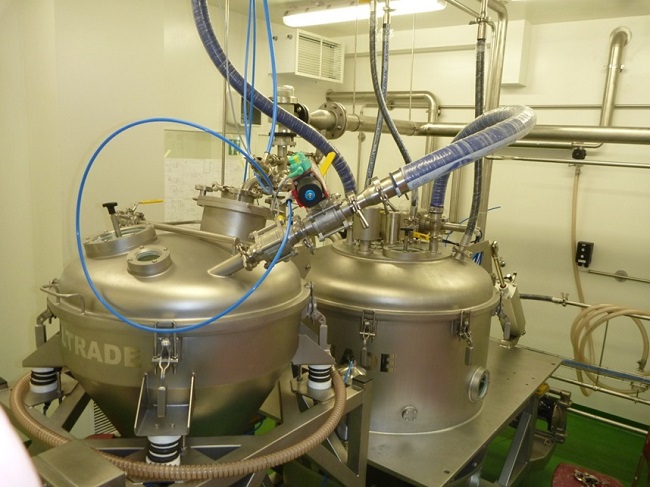 SCVT product line
| | | | | |
| --- | --- | --- | --- | --- |
| Typ odstředivky | | SCVT 630/320 | SCVT 800/400 | SCVT 1000/500 |
| Basket diameter | mm | 630 | 800 | 1000 |
| Basket height | mm | 320 | 400 | 500 |
| Filter surfes of the basket | m2 | 0,63 | 1,01 | 1,57 |
| Useful volume | l | 51 | 103 | 200 |
| Max. load | kg | 64 | 128 | 250 |
| Max. revolution | rpm | 1900 | 1500 | 1200 |
| Centrifugal acceleration | x g | 1271 | 1006 | 805 |
| Drive power | kW | 7,5 | 11 | 22 |
| Dimensions v x š x d | mm | 850 x 110 x 1350 | 1050 x 1300 x 1650 | 1250 x 1600 x 2100 |
| Weight netto | kg | 650 | 1000 | 2000 |
Contact us