CENTRIFUGE DRYER – SPECIAL EQUPIMENT for PHARMA – CDR

CDR – CENTRIFUGE DRYER
Centrifuge – Dryer type CDR is made according to GMP conditions as multi-purpose machine for centrifuging (product separation from slurry) and vacuum drying of product in one working space. Agitators (discharger, cake detector, lid opening, armatures etc.) are with electro pneumatic execution. CDR is gas tight, pressure centrifuge for full ATEX (for example Ex II 2G IIC T4) with inertiztaion of inner space.
The advantage is space and cost savings, as several technological operations are combined into one machine (centrifuging, washing, homogenization, vacuum contact drying and product emptying). Avoided is also any crosscontamination of product.
Material:
Stainless steel 1.4404 (1.4435) / 1.4571
special alloy 2.4602 (Hastelloy C-22)
Surface finishing:
Grinded Ra <0,8 μm
Polished Ra <0,2 μm
Working cycle of CDR is:
Filling of centrifuge with slurry
Centrifuging
Washing of product at basket, second centrifuging
Peeling of product to basket bottom
Raking/milling and contact drying under vacuum
Cooling of product
Pneumatic discharging/transport of dry product to product tank
Cleaning of CDR can be done:
CIP cascade
complete flooding of CDR
Accessories:
variable control panel
thermostat (heating and cooling unit)
inertization and blanketing system
vacuum product tank VPT
technological armatures, hoses, compenzators etc.
This CDR 500/250 we also purchase as mobile testing equipment to ensure that we are your right partner with special device centrifuge dryer for your product.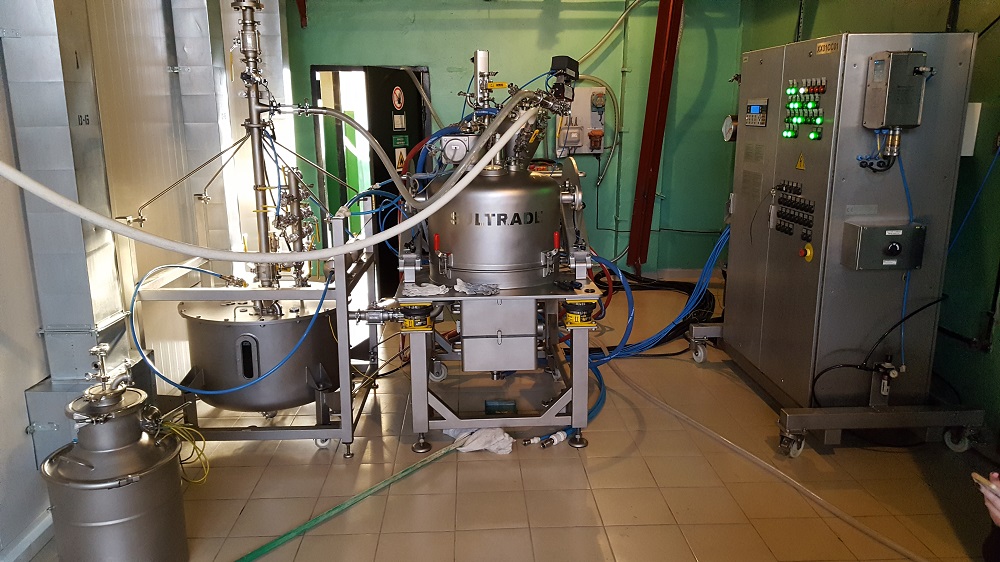 | | | | | |
| --- | --- | --- | --- | --- |
| CDR type | | CDR 500/250 | CDR 800/400 | CDR 1000/500 |
| Diameter of basket | mm | 500 | 800 | 1000 |
| Height of basket | mm | 250 | 400 | 500 |
| Opening diameter of basket | mm | 350 | 560 | 700 |
| Filter surface | m2 | 0,39 | 1,01 | 1,57 |
| Heated surface | m2 | 0,2 | 0,5 | 0,79 |
| Useful volume | l | 25 | 103 | 200 |
| Max. load | kg | 30 | 123 | 240 |
| Max. revolution | rpm | 1900 | 1200 | 950 |
| Centrifugal acceleration | x g | 1009 | 644 | 504 |
| Min. revolution for drying | rpm | 12 | 8 | 6 |
| Max. revolution for drying | rpm | 100 | 64 | 52 |
| Min. internal temperature | °C | -15 | -15 | -15 |
| Max. internal temperature | °C | 100 | 100 | 100 |
| Min. internal pressure | MPa | -0,1 | -0,1 | -0,1 |
| Max. internal pressure | MPa | 0,05 | 0,05 | 0,05 |
| External dimensions H x W x L | mm | 2000 x 1000 x 1300 | 2750 x 1600 x 2100 | 3000 x 2000 x2600 |
| Weight without load | kg | 900 | 3200 | 5500 |
Contact us